For the past few weeks, we were "hosting" an extra exchange student and her mother who was here visiting from Germany. The original host family asked her to leave when school was over so we invited them to stay with us. Some people just shouldn't host! Although it turned out good for us, since they were an absolute pleasure to have around. Lots of fabulous German food was prepared (and I got some great recipes – mmmmmm, Mousse Chocolate) and they were ever so appreciative of anything we did for them.
Last weekend I made buttermilk pancakes – a quintessential American food – then we headed up to the Sawtooth Mountains for a hike. (Knee issues? What knee issues? Besides, the doctor told me I should be exercising, so it was kind of sanctioned by my medical provider, right?) The boys stayed home, my husband because he had a lot of things he wanted to get done around the house and my son because the last time he went on a road trip with a bunch of females he found himself having to say things like "My eyes can't roll far enough back in my head to respond to that."
On our way up to the mountains, we stopped for ice cream in Idaho City. On a whim, we went into the Rusty Spur Old Time Photo shop. We had an absolute blast dressing up as floozies and having our pictures taken. The business is run by Steve and Joyce Eason, who had their little granddaughter helping out that day. They were kind enough to let us take some shots with our own cameras after we had purchased the "official" picture, so we have quite a selection of silly pictures. Here's the one taken by the Easons: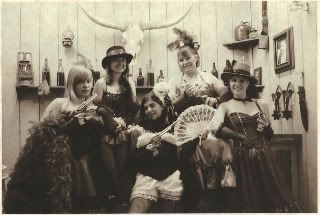 If you're ever in Idaho City, I highly recommend a visit to the Rusty Spur. Worth every penny just for the giggles you get trying on the clothes!
The Sawtooths were absolutely beautiful, as always. We stopped by Redfish Lake for some pictures, went to the visitors' center, and then headed for the Fishhook Creek trailhead. The two-mile-long Fishhook Creek trail is an easy hike, with a little bit of a climb at the beginning. The trail meanders along the creek through pine trees and an occasional aspen grove. There were plenty of wildflowers blooming – bright yellow mountain mules ear, lavender dwarf lupines and violets, delicate white phlox and blossoms on wild strawberry plants.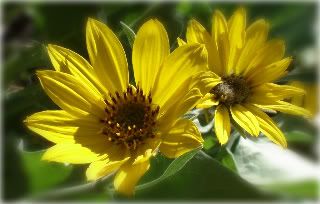 The trail ends at a lovely meadow at the foot of the mountains. We took the requisite pictures and then headed back – encouraged by a gang of mosquitoes that had taken up residence at the end of the trail. And us without our bug repellent! My knee held up pretty well until about the last half mile when it complained most vigorously about its overuse.
But the pretty? Was ever so worth the pain: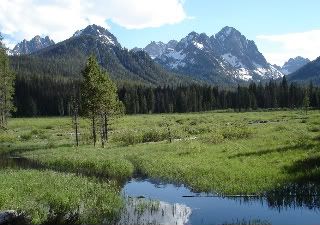 And getting to hear "Hakuna Matata" sung simultaneously in English, Italian and German was priceless.
We bid a sad farewell to our German guests. Hosting exchange students, be they your own for the year or someone else's for an unexpected few weeks, is an awesome experience. Unfortunately, all that awesomeness just makes it so much harder to say goodbye. I am so not looking forward to next weekend's departure of our sweet little Italian girl.
So, that's the good and the bad. The ugly? Well, the MRI results are back and I apparently have a torn meniscus which requires surgery. Thankfully, it will only be an out-patient arthroscopic surgery. I'm hoping for a much easier recovery from this surgery than the last one, which involved not only 'scoping the front of my right knee, but opening up the back and removing a cyst. Arriving at the decision to leave the left knee's cyst in place truly sucked, though. My doctor decided to inject painkiller into the front of my knee to determine whether I would still hurt in the back when the meniscus was taken care of. I'd feel a little pinch, he said. Liar, liar, pants on fire, I should have responded, in a very mature manner. HOLY CRAP THAT HURT. I cried like a baby. If you ever hear a doctor tell you an injection into your knee is not going to hurt very much, RUN AWAY AS FAST AS YOU CAN! Oh, but that would be the problem, right? The inability to run.
So, exchange student going home on Sunday, and knee surgery on Wednesday. I'm really not looking forward to next week. Send chocolate.